EFES NEWSLETTER - JANUARY 2015
Warning signal
For the third consecutive year in 2014, the number of employee  shareholders decreased in Europe. This should be a warning signal for everyone. In fact, the number of employee shareholders in continental Europe decreased by 500.000 persons (-8%) from 2011 to 2014, while the number increased by 200.000 persons in the UK (+8%). These changes are clearly related to the regressive fiscal policies in many European countries, while in contrast, the UK chose to double the fiscal incentives for employee share ownership, considering it is a key element of recovery and an investment for the future. This is the first information from our annual census of employee ownership in European companies. More information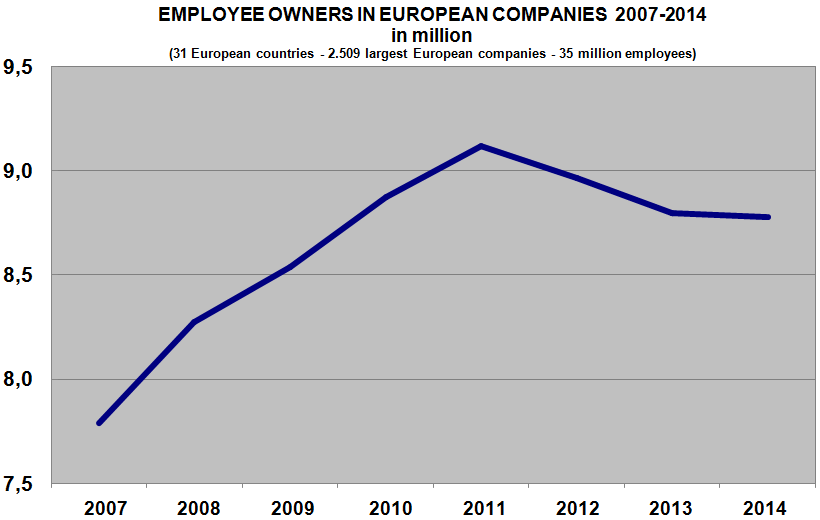 Press review
We have a selection of 31 remarkable articles in 7 countries in December 2014: France, Italy, Norway, South Africa, Spain, UK, USA.
France: Political confusion: Most government's decisions in recent years were negative, cutting fiscal incentives, removing the legislation which reserved a 10% stake for employees in case of privatisation, - "they demolish employee share ownership in France". A new proposed legislation ("Loi Macron") will offer new incentives to promote employee share ownership in France through stock options (for startups) and free share grants. New employee share plans for AXA, for Vallourec, for Quadrimex, for Mie Câline. Employees fighting decisions to cut employee share plans in Société Générale, in Easyjet. Some typical workers' cooperatives and in France: Macoretz, Guérin-Brémaud, Buroform.
Italy: New employee share plans for Italian banks?
Norway: Employee purchase program for Aker Solutions.
South Africa: Employee share ownership scheme for Impala Platinum.
Spain: Final phase for changes in the legislation on employee-owned companies ("sociedades laborales").
UK: Companies turning to employee-owned businesses, based on the new Employee Ownership Trust model.
USA: His pioneering model of employee ownership helped make Science Applications International Corporation (SAIC) a defense-industry giant: SAIC founder John Robert Beyster died on December 22.

The full press review is available on:
http://www.efesonline.org/PRESS REVIEW/2014/December.htm

A political roadmap for employee ownership in Europe



The EFES needs more members. Download the EFES membership form

What's new on the EFES website?

EFES NEWS distribution: 200.000