EFES NEWSLETTER - JANUARY 2017
Formidable engine - again and again
The stake held  by employees in large European companies continues its rise. It had never been so high before, with 3.20% in 2016 (see chart). Even through the European crisis, employee ownership  demonstrates again and again its status as a formidable engine of participation and development. Assets per person have doubled since 2009. These are the first indications to be drawn from the new "Economic Survey of Employee Share Ownership in European Countries", which will be published in March 2017.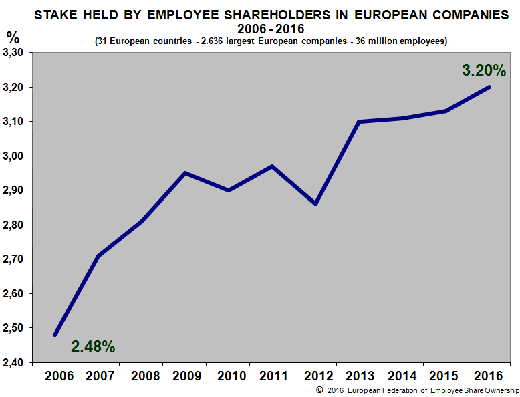 Press review
We have a selection of 27 remarkable articles in 8 countries in December 2016: Belgium, Czechia, France, Italy, Norway, Poland, UK, USA.
Belgium: Employee shareholders are the victims of the Cross-border Mergers European Directive.
Czechia: A round table of experts from several ministries was held in Prague about the benefits of employee ownership.
France: The French Federation of Employee Shareholders Associations celebrates its 12th "Grand Prix". First barometer of employee share ownership in non-listed companies. New employee share plans for Axa, for Crédit Agricole, for Vallourec. Stories from workers cooperatives. New disastrous policy decisions in Paris.
Italy: Employee share ownership is the future.
Norway: New employee share plan for Aker Solutions.
Poland: Launch of the Polish edition of "Equity: Why Employee Ownership Is Good for Business", a book originally published by Harvard Business School Press in the United States.
UK:  New firms turning to the Employee Ownership Trust scheme. Thoughts about global inequality and employee ownership.
USA: Thoughts about robots. Top Ten tax incentives for ESOPs. New firms turning to ESOPs.
The full press review is available on:
http://www.efesonline.org/PRESS REVIEW/2016/December.htm

A political roadmap for employee ownership in Europe



The EFES needs more members. Download the EFES membership form

What's new on the EFES website?

EFES NEWS distribution: 200.000